Transform Supplier Management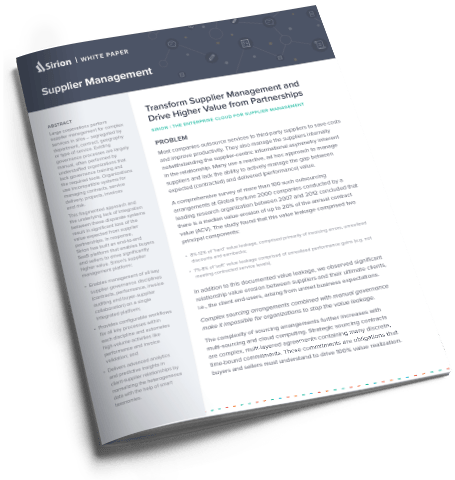 What's Inside?
Over the past five to eight years, the enterprise services landscape has witnessed a dramatic shift away from larger, monolithic deals to smaller, multi-sourced contracts. For services suppliers, this increased complexity puts greater pressure on their ability to protect and improve revenue and profitability in strategic customer accounts.
In this environment, suppliers must focus on transforming the way they currently manage the order-to-cash (O2C) lifecycle in strategic accounts – the traditional O2C approach is disjointed, manual and distributed across different enterprise functions (sales, delivery, finance, etc.), resulting in revenue leakage (3.8 – 10% of ACV), poor EBITDA, strained relationships and inconsistent delivery performance and compliance in such accounts.
Download this white paper to discover how services suppliers can leverage technology to identify and address risks, inefficiencies and leakages across the O2C lifecycle in enterprise accounts.
Key Takeaways:
Causes of revenue leakage in complex services engagements

Limitations of existing O2C models

Technology-driven, holistic approach to O2C helps boost profitability and relationship capital in enterprise accounts
Fill this form to download your copy