Sirion for

Contract Setup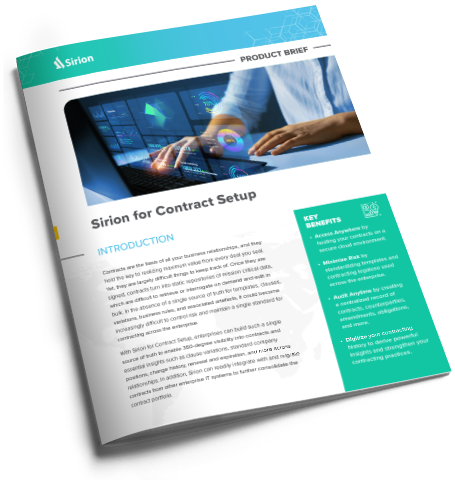 What's Inside?
Commercial contracts contain the data enterprises need to gain visibility into deliverables, risks, expected outcomes, and more. They essentially hold the key to forging strong third-party relationships and realizing the full extent of their value. However, typical enterprise contract repositories are often siloed and offer limited capabilities to retrieve contracts and interrogate them on demand. As a result, they cannot be leveraged as a single source of truth for templates, clauses, variations, business rules, and associated artefacts, which is essential for standardizing the contracting process.
With Sirion for Contract Setup, enterprises can build such a single source of truth and enable 360-degree visibility into contracts while offering the ability to drill into them for insights. Using Sirion for Contract Setup, enterprises can:
Enable anytime-anywhere access by hosting contracts on a secure cloud environment.

Minimize risk by standardizing templates and contracting legalese used across the enterprise.

Audit anytime by creating a centralized record of contracts, counterparties, amendments, obligations, and more.

Digitize contracting history to derive powerful insights and strengthen your contracting practices.
Download this product brief to discover how Sirion for Contract Setup can help create an intelligent, enterprise-grade foundation for your contracting processes.
Fill this form to download your copy