CLM SolutionMap
by Spend Matters, Spring 2022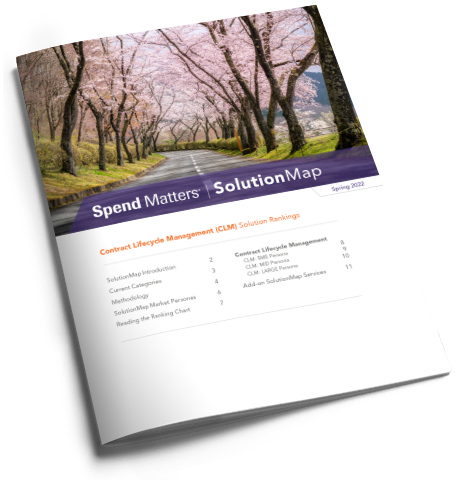 What's Inside?
CLM SolutionMap by Spend Matters is a definitive technology benchmark due to the depth of analyst assessments, quantity of real-life customer inputs, and frequency of release to accurately reflect vendor updates at the speed of the market. This is a valuable resource for organizations exploring the market for a contract management platform.
The latest Spring 2022 report marks the ninth consecutive time Sirion has been ranked as a 'Value Leader' – the highest ranking in the analysis, indicating both high customer and analyst scores. Sirion consistently outscores other providers through its superior combination of:
Advanced, AI-powered capabilities across the complete contracting lifecycle, and

The ability to translate superior functionality into tangible benefits for clients including business acceleration, risk mitigation and improved value realization.
Download the latest Spring 2022 edition of the report to discover how various CLM providers stack up against each other. Spend Matters assesses companies in three personas based on customer size—SME, Mid-size, and Large—and sixteen companies in total were evaluated for CLM.
Fill this form to download your copy