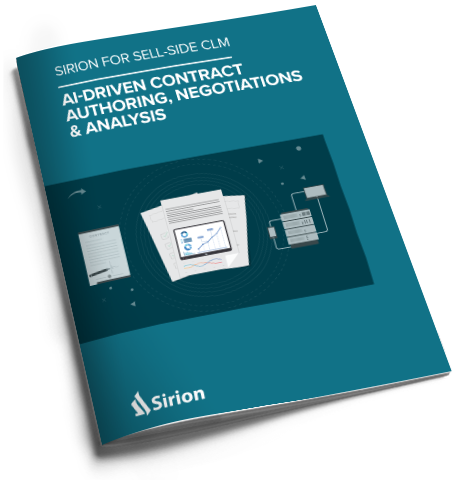 What's Inside?
A company's revenue and cash flow are directly linked to its sell-side contracts. To keep the revenue flowing, deals need to be closed faster than ever before. Organizations need to create, negotiate, and finalize contracts rapidly to convert prospects into customers before the competition can. Moreover, such contracts need to be effectively managed using a technology-led approach to improve revenue recognition and identify new opportunities to fuel account growth. Traditional contract management technologies fall short, as they suffer from partial functionality, inflexible and complex design, limited automation capability, and unclear ROI.
But, with Sirion for Sell-side CLM, you can transform the sales contracting process and:
Author compliant contracts in up to 90% less time.

Negotiate smarter by leveraging unprecedented analytics.

Enable seamless collaboration between stakeholders.

Gain complete visibility into legacy contract portfolio with a cloud-based repository.

Monitor customer relationships and renewal and expiration through a single pane of glass.
Download this product brochure to discover how Sirion for Sell-side CLM can empower organizations to transform the sales contracting experience and turn it into a competitive advantage.
Fill this form to download your copy