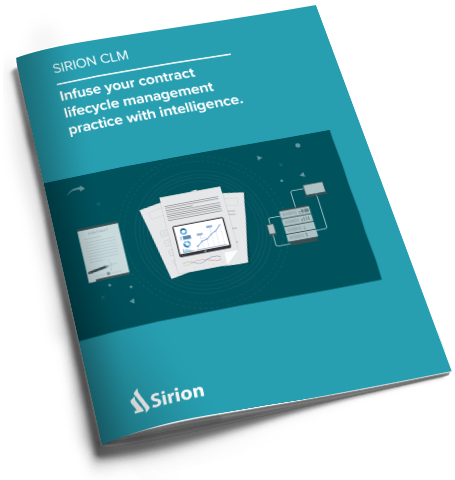 What's Inside?
Contracts are the commercial foundation of every business relationship. However, the typical contracting process is managed in silos by multiple departments, with each business unit creating, negotiating, and signing new deals without any insight or visibility in past performance and risk. Enterprises have largely relied on manual processes, tools, and workarounds to bring a measure of order to their contracting practice. However, the conventional technological solutions underpinning these attempts often operate as point solutions, offer limited automation capability, and fail to deliver on their promise of substantial ROI.
But, with Sirion for CLM in your enterprise technology arsenal, you can:
Author smarter contracts in up to 90% less time.

Simplify negotiations with AI-assisted legal review.

Reduce time-to-approval with configurable workflows and auto-approval triggers.

Reduce CLM cost by up to 40% by leveraging AI to digitize the contracting process.

Ensure anytime-anywhere access by migrating contracts to a cloud-based repository.

Monitor contractual relationships and renewal and expiration through a single pane of glass.
Download this product brochure to discover how Sirion for CLM's advanced capabilities can help your organization reimagine how it drives its contracting processes.
Fill this form to download your copy