Procurement Contracting:

A CPO's Guide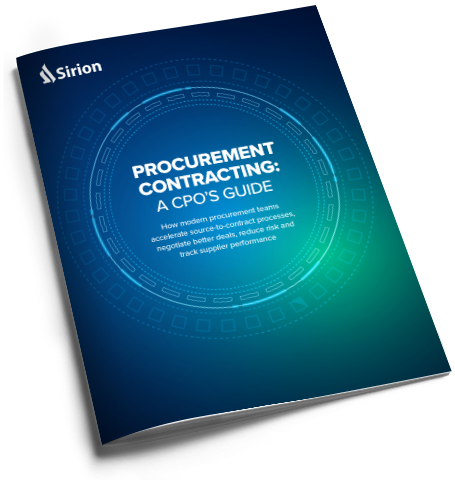 What's Inside?
In today's rapidly evolving business landscape, procurement teams face growing pressure to ensure a steady flow of essential goods and services while managing supplier risk and controlling sourcing costs. Optimizing contract management at the enterprise level requires a state-of-the-art digital solution.
"Procurement Contracting: A CPOs Guide" offers an in-depth exploration of how enterprise CPOs are unleashing the full potential of their contracts through the power of AI-driven Contract Lifecycle Management (CLM) technology. This fact-filled e-book provides invaluable insights into the features, functionalities and benefits of CLM in enabling procurement teams to author and negotiate better contracts, reinforce supplier relationships, ensure compliance, mitigate risks, drive cost savings and strengthen the supply chain.
Download "Procurement Contracting: A CPO's Guide" to learn how Sirion CLM unlocks the full potential of procurement teams and empowers CPOs to operate at a strategic level.
Fill this form to download your copy